Many people go for tree removal services because even though trees surrounding your home may be a great investment and improve your quality of life, decaying or dead trees can cause substantial harm to your property and jeopardize your general safety. In such cases, you must remove them as quickly as possible.
Why Should Professionals Handle Tree Removal?
Tree removal requires careful preparation and a significant amount of time. When removing a tree, care must be taken to guarantee that there are no side effects on the surrounding ecosystem, that correct safety precautions are taken, and that there is no long-term harm.
Without careful preparation, the removed tree will merely add to your difficulty. Furthermore, it will take hours to cut down a tree correctly if you are not an expert in tree removal services.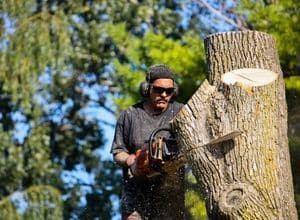 Some people believe that removing a tree will save them money. However, it might greatly increase the final cost.
How? To remove a tree, you'll need to utilize professional tools. Accidents can also occur at any time. While removing a large tree, you may injure yourself or others and damage property. In that situation, you will not only incur more costs, but you may also suffer other serious penalties.
Cleaning up after tree removal is also difficult. You may not even realize how much effort you are bringing on yourself before chopping down a tree. There will be many branches that must be cut off, making cleanup more difficult.
You may also be unsure about how to properly cut down the tree. An expert will understand and arrange a tree removal technique to make the best of a poor situation. In many circumstances, they can assist a damaged tree in recovery without entirely removing it.
As a result, if you decide to cut down a tree, call expert tree removal services to reap all the benefits below.
The Benefits Of Hiring Tree Removal Services


As previously said, reputable tree removal services can assist you in securely removing an undesirable tree from your property while preserving the area's aesthetics. If you are still undecided, consider the following advantages of hiring professional tree removal services:
Skilled Workers
When you hire expert tree removal services, you get someone who understands how to remove a tree. A trained tree remover will analyze the problem that may develop while removing a tree. As a result, they'll be able to be prepared for anything that may go wrong and take the required precautions ahead of time to avoid it.
They can also remove a tree while causing minimum harm to the surrounding environment and effectively managing the entire operation. As a result, even after massive tree removal, your property will stay intact and tidy.
Security Measures
When removing a large tree, it might fall at any time. The huge branches might injure or kill passers-by. Or fall on and injure other things. Animals and birds living on the tree may attack and hurt you while removing it.
In addition, tree removal may cause harm to surrounding public walkways or utility wires. All of these may be dangerous to anyone, which any tree owner would like to avoid.
When you hire professional tree removal services, they will examine potential threats and take the required procedures to prevent them. In this manner, you can properly remove trees from any location without damaging anyone or anything.
Time Management
It takes time to remove a large tree. Furthermore, if you have no prior expertise in removing trees, doing it yourself might present some risky challenges, extending the time required. You may mistakenly analyze the issue and then be forced to take further steps to fix your errors.
Even removing a medium-sized tree, you will need to cut down tree limbs one at a time. Then, remove the tree's main branch and stump from the ground. To complete all of these tasks correctly, you will need to utilize professional-grade equipment.
You will need time to become acclimated to these pieces of equipment because you are not an expert in their use. However, tree removal services will provide you with personnel already skilled in handling the equipment and the entire operation. As a result, these pros will remove the tree in far less time than you would.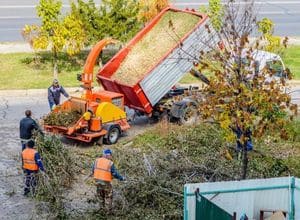 Saving Money
Another big advantage of choosing expert tree removal services is the chance to save money. Most individuals believe that removing a tree oneself is the most cost-effective alternative. However, they are completely incorrect.
When specialists remove a tree, they are concerned with causing the least damage to the area, assuring the safety of surrounding businesses and pedestrians, and removing the risks involved with your life due to any mishap. When you add up all the charges, you're not paying much to the specialists.
You will also need to employ professional-grade equipment to remove your tree, which is not inexpensive. Considering all this, hiring professional tree removal services to remove trees saves you a lot of money.
There is Minimal Property Damage
One of the most common accidents while removing a tree is that the limbs or branches may cause harm to any neighboring property. It might be your property, your neighbor's, or public property. In any event, you will have to pay significant money to fix things because your tree destroyed them.
When expert tree removal services remove a tree, the first thing they do is examine the whole issue and determine which properties may be impacted. They will plan around them and take steps to avoid them as cleanly as possible when they appraise the scenario.
Stump Removal
Tree stump removal is an important service that your professional tree removal service may provide. While removing tree branches on the ground might be difficult, stump removal is way tougher. You must follow suitable techniques to remove the stump from the ground without damaging its surroundings, other enterprises, or utility supply lines.
Hiring a professional might help you with difficult tree removal jobs. They will remove the tree stump safely, timely, and effectively. They will also clean up the area after the tree is removed. This will guarantee no debris is left behind once the stump has been removed.
Maintaining the Yard's Look and Value
When a tree is removed, many smaller tree branches, leaves, wood chips, and other undesired items will be in your yard. It can seriously harm the appearance of your yard and reduce its value.
On the other hand, professional tree removal services will complete the entire operation with little property damage. They will guarantee that there is the minimal mess created by their service and will also assist you in cleaning up your home. As a result, you won't have to spend much money or effort cleaning up the mess.
Other Trees' Health
When there are numerous trees in a location, and one is removed, the other trees may also suffer. Because trees create a unique ecosystem around them, uncontrolled tree removal will affect the entire system and negatively influence the environment.
Professional tree removal experts are aware of these consequences. They are taught to harm the surrounding surroundings and other trees the least.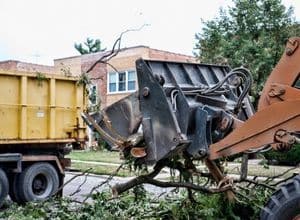 When you hire tree removal services to remove a tree, they will analyze the whole issue and ensure that adjacent trees are not harmed as a result of the tree removal. They will also take the required precautions to ensure no infestation due to tree removal.
Environmentally Friendly
As stated throughout this text, tree removal is not an easy process. It necessitates accuracy, determination, and careful preparation. Despite this, tree removal can result in significant waste and greenhouse gas emissions.
However, tree removal specialists are aware of the environmental consequences of tree removal. They will carry out the entire operation with little environmental impact. As a result, hiring tree removal services benefits the general ecosystem of your property.
A Second Opinion
There are often misconceptions regarding the removal of a tree. A tree might be harmed by a storm, insect, or disease infestation. Some tree owners may be unwilling to remove the trees to conserve them as much as possible.
When hired, professional tree removal services may provide experienced advice on any work you have in mind. In rare circumstances, they may be able to salvage the tree from full removal and take steps to allow the injured tree to thrive in the future. In other circumstances, they may examine the issue and provide the best grounds for the tree's removal.
Excellent Aftercare
There is still plenty to accomplish after removing a tree:
The area must be cleared of debris, wood chips, and other waste products.
The required precautions should be taken to avoid an infestation.
The property must be readied for future activities.
Completing all of these processes might provide distinct hurdles that may be tough for a single tree owner to overcome. However, hiring professional tree removal services may be beneficial in this scenario. They can provide advice and insights about removal and aftercare.
Successful tree removal requires considerable knowledge of tools and equipment, safe cutting practices, and much more. Attempting to remove trees without the right expertise or experience raises the danger of property damage or injury, incorrect equipment usage, or tree damage.
Call us at Shilling Excavation in Central Texas to become fully informed and ready to launch into getting professional tree removal services for your project. We look forward to talking with you.