When you need earth moved—no matter how large or small the amount—you would need different types of earthmoving equipment. When talking about a construction job of any size, you can guarantee that heavy-duty equipment will be on site.
Whether building a single house, constructing a whole development or working on a large commercial project, many types of earthmoving equipment are essential. Without this, expert earthmoving companies would be unable to excavate the necessary soil and rock to make room for the structures and install the foundations.
These same earthmoving machines are also used for various other jobs throughout the construction process, from digging to demolition, transporting, carrying, and much more. Some things cannot be done by hand, so machinery is used to speed up the process and make impossible heavy lifting possible.
Various types of earthmoving equipment are used in construction; a few pivotal ones are discussed below:
Different Types Of Earthmoving Equipment
Excavators
Excavators are heavy construction equipment that consists of a dipper (or stick), bucket, boom, and cab on a rotating platform called the "house." The house sits above an undercarriage with tracks or wheels. They are a natural progression from steam shovels and are often mistakenly known as power shovels.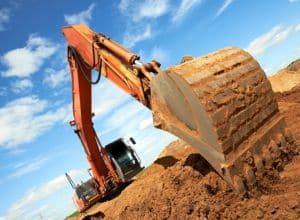 All functions and movement of a hydraulic excavator are accomplished using a hydraulic fluid with hydraulic cylinders and motors. Because of the linear actuation of hydraulic cylinders, their mode of operation fundamentally differs from cable-operated excavators, which use steel ropes and winches to accomplish the movements.
Backhoe Loader
A backhoe loader is an equipment consisting of a tractor-like unit equipped with a loader-style bucket/shovel on the front and a backhoe on the back. Due to their (relatively) small size and versatility, backhoe loaders are relatively common in urban engineering and small construction projects (like fixing urban roads, building a small house, etc.), as well as in developing countries.
Bulldozer
A bulldozer is a tractor armed with a huge metal plate (called a blade) used to push large quantities of sand, soil, rubble, or other such material during conversion or construction work and often equipped at the rear with a claw-like device (called a ripper) to loosen densely compacted materials.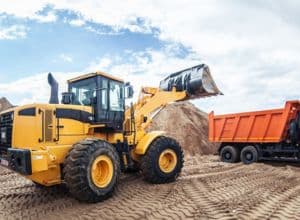 It's usually a crawler (continuously tracked) tractor. Bulldozers can be found on various sites, military bases, mines and quarries, heavy industry factories, engineering projects, and farms.
Skid-steer Loader
A skid loader is a rigid-frame, small, engine-powered machine with lift arms used to attach various labor-saving tools or attachments. Skid-steer loaders are often four-wheel vehicles with the wheels mechanically locked in synchronization on both sides, where the left-side drive wheels could be driven independently of the right-side drive wheels. The wheels often have no separate steering mechanism and have a fixed straight alignment on the machine's body.
Turning is done by differential steering, in which the right and left wheel pairs are operated at different speeds. The machine turns by skidding, dragging its fixed-orientation wheels across the ground. The highly rigid frame and strong wheel bearings prevent the torsional forces induced by this dragging motion from damaging the machine.
Motor Grader
A motor grader is construction equipment with a long blade that creates a flat surface during grading. Even though the earliest models were hauled behind horses or other powered equipment, the majority of modern graders include an engine, so they are technically erroneously known as "motor graders." Typical models have three axles, with the cab and engine situated above the rear axles at a single end of the vehicle and a third axle at the front end, with the blade in between.
The majority of motor graders drive the rear axles in tandem, but some also put the front-wheel drive to improve grading capability. Numerous graders also have optional attachments for the rear of the machine, which could be a ripper, blade, or compactor.
Trencher
A trencher is construction equipment employed to dig trenches, especially for laying electrical cables or pipes, installing drainage, or preparing for trench warfare. Trenchers might range in size from walk-behind models to attachments for a tractor or skid loader to heavy-tracked equipment.
Loader
A loader is one of the types of earthmoving equipment used in construction to load or move aside materials such as demolition debris, asphalt, dirt, snow, feed, logs, gravel, raw minerals, recycled material, rock, sand, woodchips, etc. onto or into another type of machinery (such as a conveyor belt, dump truck, feed-hopper, or railroad car).
Depending on design and application, there are many types of loader, which are called by various names, such as bucket loader, front loader, front-end loader, scoop, payloader, shovel, skip loader, skid-steer, or wheel loader.
Wheel Tractor-Scraper


The wheel tractor-scraper is a piece of heavy machinery employed for earthmoving. The rear part of the scraper contains a vertically moveable hopper which includes a sharp horizontal front edge that could be lowered or raised. The front edge cuts into the ground, like a carpenter's plane cutting wood, filling the hopper. Once the hopper is full, it is raised, closed, and the scraper can haul its load to the fill area where it's dumped. With a type known as an 'elevating scraper,' a conveyor belt transports material from the cutting edge into the hopper.
Dragline Excavator
The dragline excavator is a piece of heavy machinery used in civil engineering and surface mining. Draglines fall into two categories: those based on regular lifting cranes and the heavy units that must be built on-site. The majority of crawler cranes, with an added winch drum on the front, could act as a dragline. These units (similar to other cranes) are made to be dismantled and moved over the road on flatbed trailers. Draglines employed in civil engineering are almost always of this smaller crane type. These are used for port construction, road, pond, canal dredging, and pile-driving rigs.
Paver
A paver (asphalt finisher, paver finisher, paving machine) is a piece of construction equipment employed to lay asphalt on roads, parking lots, bridges, and other places. It lays the asphalt flat, providing minor compaction before a roller compacts it.
Compactor
A compactor is a mechanism or machine that reduces material sizes, such as waste material or biomass, through compaction. A home or business often uses a trash compactor to reduce the volume of trash it produces. A baler-wrapper compactor is often used to make compact and wrapped bales to improve logistics. Usually powered by hydraulics, compactors take many shapes and sizes. In landfill sites, for instance, a large tractor (typically a converted front-end loader with a few variants of a bulldozer blade attached) which includes spiked steel wheels known as a landfill compactor, is employed to drive over waste deposited by waste collection vehicles (WCVs).
Telehandler
The telehandler (telescopic handler) has a boom configured to accept an attachment coupler. Telehandler capability varies from models with a lifting capacity of 6,000 lbs and a lift height of 20 ft. to models that might lift over 20,000 lbs to 100 ft. The appeal of the telehandler goes beyond its ability as a rough-terrain forklift; it can work with tools such as loose-material buckets, pipe clamps, truss booms, augers, grapples, brooms, etc.
Feller Buncher
A feller buncher performs both harvesting functions and consists of a regular heavy equipment base with a tree-grabbing device furnished with a circular saw, chain-saw, or a shear—a pinching device made to cut small trees off at the base. Then, the machine places the cut tree on a stack suitable for a forwarder, skidder, or yarder for transport to further processing, like delimbing, bucking, loading, or chipping.
Dump Truck
A dump truck, also called a dumper truck or tipper truck, takes dumps (like sand, gravel, or demolition waste) for construction and coal. A regular dump truck is armed with an open-box bed, which is armed with hydraulic rams to lift the front and hinged at the rear, enabling the material in the bed to be deposited ("dumped") on the soil behind the truck at the site of delivery.
Pile Driver
A pile driver is a device that drives piles into the soil to give foundation support for buildings or different structures. The term is also used for construction crew members working with pile-driving rigs. A pile driver utilizes a weight placed between guides to slide vertically. It is placed above a pile. The weight is raised, which may involve using hydraulics, steam, diesel, or manual labor. When the weight reaches its highest point, it's released and hits the pile, driving it into the soil.
Crawled Loader
Crawled loaders are machines with a loader and a tracked chassis that could be used for digging and loading/moving materials. They are a versatile part of any fleet and can perform many tasks. These days, loaders are usually needed to move heavy materials on a construction site. They are well-suited for moving sand, wood chips, rock, and recycled materials.
Crawler loaders move on tracks, which could be manufactured using different materials and various grousers to make them capable of maneuvering various surfaces. Hydrostatic drives ease the operation of the machines.
Why Choose The Professionals To Handle The Many Types Of Earthmoving Equipment?
Using different types of earthmoving equipment requires experience and a specialized skill set for getting the job done effectively, on time, and within a budget. Here are some advantages of letting the professionals handle what they are best at:
Quality Work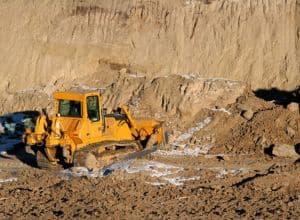 Most professionals know how the types of earthmoving equipment work and how to maximize them. The quality of work greatly depends on the understanding and skills of the operators. Given the requirements at the professional establishment, one could be assured of quality work done in the least possible time.
Insurance Safety
Unlike most individuals wanting to get work, professional companies have their people and machines covered under enough insurance to take care of all possible costs in case of accidents or damage due to unseen problems. Hiring professionals transfer the heavy damage liabilities to them instead of the client bearing the brunt of added expenses.
Expertise
Earthmoving equipment professionals are equipped to handle all potential simple and complex jobs and know all the problems that can arise and how to sort them. Given the establishment's professional nature, contingency plans are in place. Given all the expenses involved, long-term and short-term hiring professionals is a cost-saving alternative.
Experience And Licensing
Professional establishments in this field have stringent rules for recruiting operators and other professionals dealing with the machines. Experience and certification ensure that even with the simplest of jobs, the quality is much better than that done by novices, self-taught operators, and semi-pros.
More experience means fewer mistakes, faster completion of work, and the minimum possible downtime with a consistent quality of work. Each earthmoving equipment requires different skills and understanding of the machine's working and the physics involved.
Savings
Hiring professionals can save on many seen and unseen costs. Provided their expertise in the field, one can save money on repairs because most establishments use well-maintained machines with the latest tech. Additionally, they're better equipped to decide on the number of machines and hours required to do a certain job in the given time frame. The same thing an amateur takes 10 hours to complete can be completed by a professional in relatively less time, consequently saving money for the time saved.
Do you need an expert earthmoving company to help you excavate or clear your project site? Call us today at Shilling Excavation!