Having your land cleared by a land clearing company is a huge undertaking, but you can only start constructing a new home or a huge commercial project if you clear a space for your project.
Land clearing is a complex project that is not for the weak of the heart. To assist you with this, you should enlist expert assistance from a reliable land clearing company. Whom should you call, though?
The following are a few things to think about when choosing the best land clearing company for your project in Central Texas.
How To Choose A Land Clearing Company
License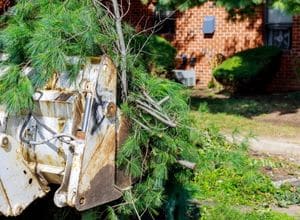 The first step is to ensure your prospective land clearing company has the appropriate municipal or state licenses. No matter how capable the land clearing company may appear, if you choose a company without a license, all you're doing is inviting disaster.
Having a license to present tells volumes about the land clearing company. The staff may be excellent at what they do, but what else could they not care about if they don't care enough about their business to get the necessary license?
It's concerning, especially if they're going to topple down gigantic structures that could weigh hundreds of pounds!
Insurance
Checking the land clearing company's insurance is another important step. There are many opportunities for people to be injured in this enormous operation. Fortunately, accidents are uncommon with reputable companies and well-trained staff, but they may still occur.
If the employees were hurt on your property, you could be liable for their medical expenses if the employer doesn't have the appropriate insurance coverage. The same applies if any equipment—yours or the company's—is significantly damaged.
Also, having insurance shows the company's commitment to its business, much as having a license does, not to mention the safety of its staff.
Experience
The amount of expertise the land clearing company has should also be considered. Here at Shilling Excavation, we have completed hundreds of land clearing projects, and our happy clients are a testament to the quality of the service we provide.
Equipment
Technically, a chainsaw and a shovel could remove a small land area. But just because something is feasible doesn't always mean it's a good idea.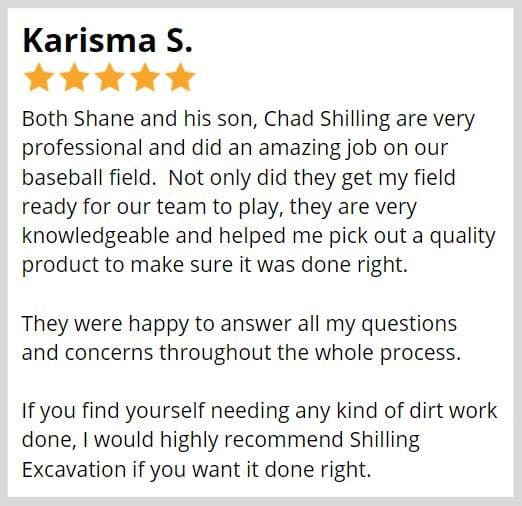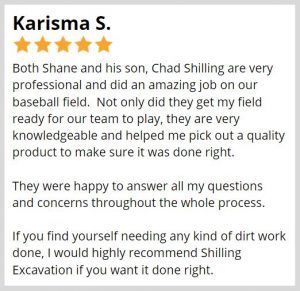 When choosing the best land clearing company to work with, the tools and equipment they have are crucial. Thanks to large bulldozers and other big equipment, your enormous project will be quickly completed. The procedure will take much longer if shovels and chainsaws are used, costing you more time and money.
Recommendations
What if you need help picking the best land clearing company in Texas? You could always ask people you trust for suggestions and recommendations.
There's a good chance that someone in your social circle has already hired a land clearing company for a project before. Hence, find out whether anybody you know has utilized this service by asking around. They may advise you to use the company's services or discourage you from wasting your time.
In any case, you now know more precisely where to search.
Reputation
Nowadays, it's difficult for anybody to conceal information. On the Internet, little mistakes turn into enormous ordeals. In other words, a reputable land clearing company has most surely earned its reputation.
How could you check the reputation of a possible land-clearing company?
Start online. Visit their website to see for yourself what they have to say. They can say anything they want on their website, so read it with a grain of salt.
You'll find the true gold when you look around on other websites. Go to Google My Business or the business's Facebook page for reviews. Another excellent, objective source of information is the Better Business Bureau. You can tell whether evaluations are consistent with what is said on a company's website by skimming through them.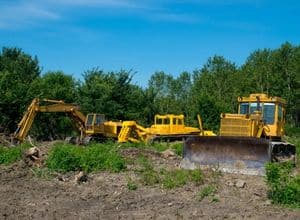 You can confirm how many tasks they may have done based on how many reviews they have. Please remember that only some consumers write a review, meaning businesses have likely performed many more projects than those that have received reviews. But it's a warning sign if they claim to have performed thousands of works and only have five ratings.
Price
The project estimate is the last item you should take into account. While the cost is high, there are other significant considerations; thus, we have included it last. Far more important considerations include experience, licensure, and insurance.
You don't want to choose the cheapest land clearing company only to lose thousands of dollars later due to defective projects, accidents, or fraud.
Regrettably, all of the issues mentioned above arise much too often when clients choose the lowest quotation.
However, the least expensive alternative provided by a respectable firm is acceptable.
For us at Shilling Excavation, it involves cutting down the trees, dismantling the stumps, and making sure that the site is cleared for your project.
What To Know Before Clearing Land
Reaching out to a land clearing company could help streamline the land clearing process and reduce some of the stress of big and complex projects like this one.
Before moving forward, look at some of the things to know before your next land-clearing project.
Make Sure The Ground Is Cleared Sufficiently
It's crucial to clear adequate space when planning to construct your property. Having enough room and ensuring it's free of clutter may also assist in stopping fires from starting and escalating. It will be clear what has to be done if the boundaries between properties and any extra areas are marked.
Consult The Relevant Authorities
The worst-case situation for a builder is when they have to pay penalties and other costs due to legal issues. Hence, to ensure you aren't violating any laws and that the area you want to clear fits within the parameters of the town's bylaws and other rules, check with your town's building and zoning departments to prevent confrontation with your local government and neighbors.
Plan A Budget
Creating a budget is essential for every project. However, you should expand your budget beyond the total cost you expect to spend on land clearing. It would be best to also decide on a certain period.
Provide A Clear Line Of Communication
Establishing brief, clear communication is essential whether you decide to work with a land clearing company, loggers, or other contractors to assist you with your job.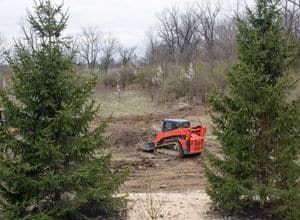 Your project needs will be honored and understood if you give the contractor clear instructions and tell them about any property elements you want to maintain, like a tree.
Also, you and the contractor will have an easier time locating the appropriate equipment for the task when you and the contractor clearly understand your preferences and the project's size requirements.
Check For Water
Before any land clearing work starts, you should locate the locations of your septic, sewer, and well systems. Planning maps are useful for figuring out what you need to do for water hookups.
Finding water or intricate root systems while removing ground for property construction is one of the toughest challenges. You might go over budget and face severe delays with only one error.
These kinds of oversights are preventable. To avoid such problems, consider working with a land clearing company to assist you in setting up your well and septic system the way you want.
Make Money Where You Can
Consider asking people and businesses that will purchase your trees if you are getting rid of any that may be used as fuel or timber. Depending on the tree species and its present condition, some companies may get substantial money from them.
Similarly, garden supply stores can also be eager to buy any usable soil you no longer need. Ask about dirt pickup or delivery by contacting a local facility.
Some government policies provide tax exemptions for land clearing services that are incurred for economic purposes or that enhance the sustainability of the region. You can pay for a significant percentage of expenses depending on the return amount.
Do You Need Land Clearing Services?
While demanding, clearing the land is necessary to build the groundwork for your future house or any other business property. Proper execution of this project reduces issues and leaves you with a more attractive area.
The Best Land Clearing Company to Hire
As you can see, choosing the best land clearing company is easier than you would have believed. It just requires some research and proper attention.
Are you looking for a reliable land clearing company to assist with your next project? We at Shilling Excavation are one of the best in Central Texas, and nearby areas. Contact us today to learn more about our services and the best seasons to clear your property.