When you're installing a new driveway, swapping out an old one, or fixing up an existing one, it's essential to be patient and hire the best driveway construction experts in your local area.
Opting for the lowest price can lead to higher costs down the road. You should look for a mix of high quality, reasonable pricing, and reliability. Here are some of the factors you need to consider when looking for driveway construction experts.
What to Consider When Hiring Driveway Construction Experts
Experience
While looking for driveway concrete services, look for driveway construction experts with at least five years of experience. These businesses are better positioned to offer quality, reliable, and consistent work. Experienced contractors have more practical knowledge within the field. Plus, they have had the opportunity to build a verifiable work history and a loyal client base.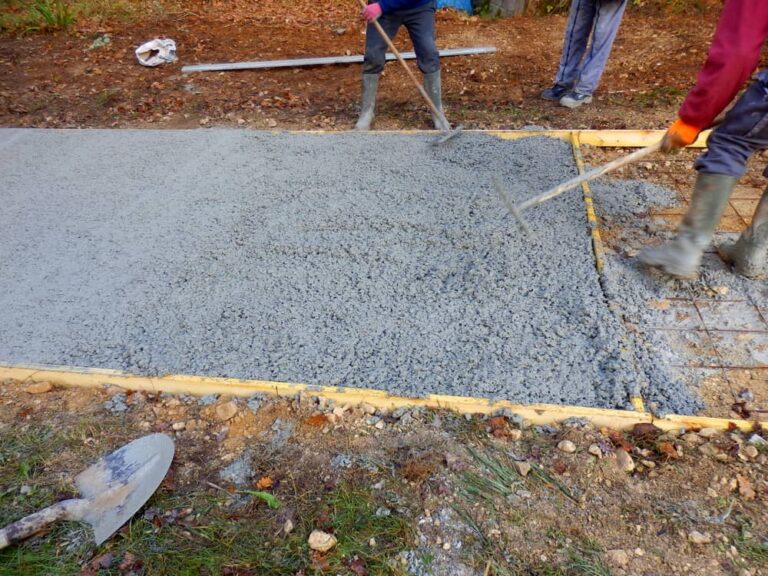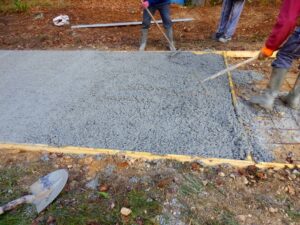 The proof is in the portfolio. A contractor's compilation of completed projects and customer referrals will help you understand their services and how well they execute them. If your project involves demolition or specialized concrete treatments, ensure they've done those things on prior jobs. Ask for this material early in the conversation.
The Quote
There are plenty of concrete companies, and they will always provide a free quote for your project. Do not decide on the price alone. The cheapest price can be expensive in the long run.


After a thorough discussion of the project details and a complete review of the estimate, choose the driveway construction experts that provides a good balance of quality and price within your budget.
What are the Concrete Services that Dependable Driveway Construction Experts Should Offer?
Construction and Repair of Concrete Driveways
A good concrete contractor will help you get the most bang for your buck. Your existing driveway could look bad but still have decades of serviceable life with just a few repairs or resurfacing, or it may need total replacement. A redesign may be necessary. Your driveway construction experts should have the skills and expertise to help you determine the best course to achieve the best solution.
Decorative Concrete Services
Contemporary concrete driveways offer a wide range of color and texture treatments. While these upgrades add to the project cost, they also give your home a fresh look. If you're interested in decorative concrete options, let your driveway construction experts know before you meet with them. They can show you all available colors and patterns and work with you to create the look you want.
Concrete Resurfacing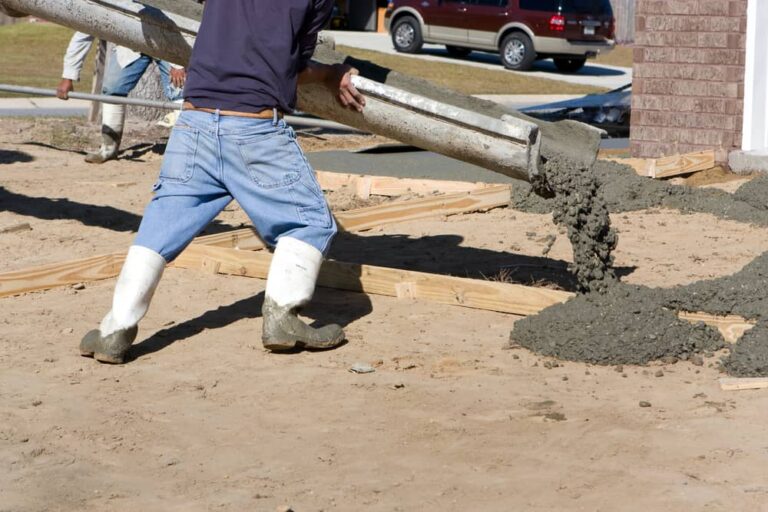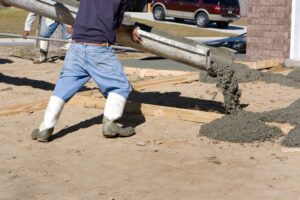 Resurfacing may be a viable solution if your driveway is cracked or surfaces imperfect. Resurfacing a concrete driveway costs about half the price of total replacement, and the repair could add decades to the driveway's life. Consult your contractor to see if resurfacing may be an option for your driveway.
Questions To Ask Your Driveway Construction Experts
What Driveway Problems Do You Cover?
Heavy traffic, moisture, and the usual wear can create problems for a home's driveway. When hiring driveway construction experts, ensure they're built to deal with these top issues.
Standing Water – This can be caused by poor drainage and improper driveway installation. A few puddles may seem like a small problem, but the water can seep into the concrete and cause it to degrade.
This degradation can lead to cracks or, worse, potholes. Standing water is a breeding ground for disease-causing bacteria and an attractive nesting place for mosquitoes. They should be dealt with immediately to ensure the safety of the driveway.
Potholes – When the weather is cool and water has seeped into the inner layer weather conditions, the concrete may expand, pushing out and damaging the material. Plus, pressure from vehicles that drive over those vulnerable areas can cause them to degrade further.
When the asphalt finally cracks, it'll leave a deep and nasty dip on a driveway. Over time, a resident's vehicle may be damaged with busted suspension systems, scuffed undercarriage, or tire issues.
Cracks – Some cracks look unsightly. Others may lead to structural problems in a driveway or cause concrete or asphalt to crumble. Like potholes, cracks often develop during cold weather, when water infiltrates a driveway and expands. As such, they need to be dealt with as soon as possible before they develop into something worse.
How Much Experience Do You Have in Installing and Repairing Driveways?
Ask your potential driveway construction experts if they specialize in driveway paving, repair, and maintenance. This way, you know you're working with people who use tried and tested techniques. You can verify their answers by checking their website or online business listings for additional information.
Are You Licensed and Insured?
Always ask for a license that proves they are legally allowed to practice in your area. This assures you that their team has received proper training and education in installing and repairing pavement.
It would be best if you also looked for insurance to protect you from possible damages that may occur during the project, like injuries and property damage.
How Will You Do the Installation?
Flatwork, as you know, is more complex than pouring concrete and calling it a day. An experienced driveway contractor knows the right techniques and machinery to ensure the material is set properly. Your driveway construction experts should take you through their process, from pouring the concrete to adding aesthetic finishes (if your project requires it).
How Long Will the Driveway Last?
A contractor who knows their flatwork should understand that although some concrete or asphalt materials last a long time, they won't last a lifetime. They should provide a timeline on when the exterior space will need reinstallation of concrete or asphalt.
Can You Work with My Budget and Schedule?
When you've shortlisted some driveway construction experts, cut that list down to one by asking about this critical concern. You've already asked about the project cost, but now it's time to see if the driveway contractor will negotiate.
The right contractor will be able to see the future benefits of working with one home builder. It may mean a more reliable source of revenue because more projects could come in. Once the contractor agrees to your budget, ask the next critical concern: delivery schedule.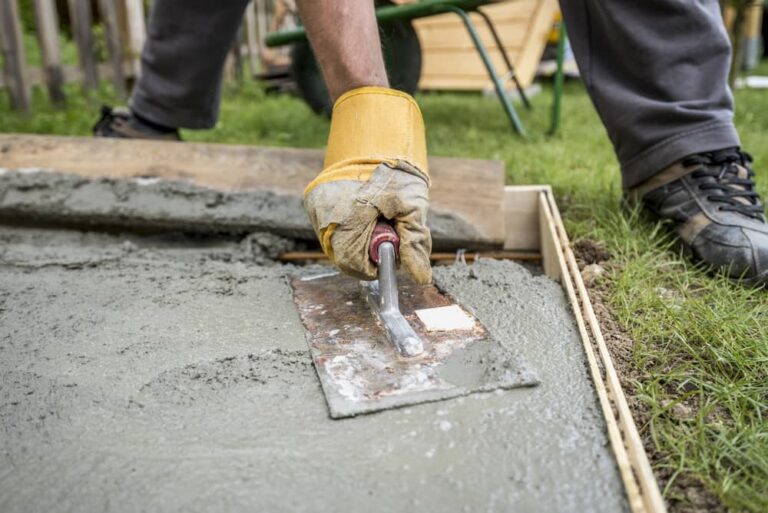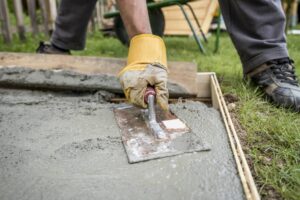 Most home builders work on a tight deadline, and you must know if the contractor can be on time. Delays not only cost money; they cost you your reputation with clients. You know you'll have the right driveway contractor when you get a definite answer to meeting your schedule.
Every home-building project contributes more than just profit for your business. It's also an opportunity to showcase what your company can do, from the homes' beauty and stability to the perfection and durability of the driveways and sidewalks.
Choosing The Right Driveway Construction Experts
It's time to decide after interviewing several contractors and reviewing their proposals. The best driveway construction experts will be the one that proves capable of completing your project within the necessary timeframe within your budget. More than one may fit that description. Extra points go to the one with the best personal referrals, outstanding customer service, a faster time to completion, a lower price, or whatever other factors matter most to you.
Do you need reliable driveway construction experts that really deliver? Please give us a call today!