A Step By Step Process For Preparing A Site For Construction
So, you're considering a project on your rural property and desire more information, especially about upcoming ideas that you want to pursue? Are you looking to get underway with a new structure? This guide to construction site preparation will teach you everything you need to plan and prepare for as part of your construction project.
Maybe you need dirt or gravel road construction, a bridge, or ground preparation for fence row maintenance? Ready to proceed with a water excavation plan such as a stock pond or lake?
Got Questions About Commercial Site Preparation?
If you need more information about commercial site preparation, our expert team is here to help.

Fill in your name, email address, and phone number and we'll respond quickly.
I'm sure you have a BIG dream for your location -- whether it's residential, farm, or ranch -- so is it an overall outlook of your property that you are considering or a more specialized job that leads you to give Shilling Excavation a call?
Preparation for an Array of Ground Projects
Shilling's work ranges from water sites, grading and drainage designs, and roadways -- all the way to demolition of buildings and land clearing for new construction. Shilling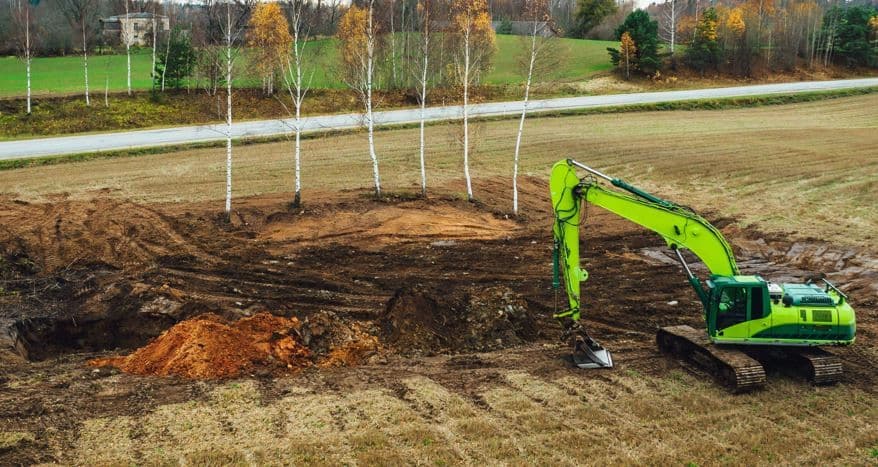 Excavation brings a wide range of equipment to the worksite, from front-end loaders and earthmovers, to suit construction jobs of all types -- from gravel driveways to barn foundations.
Whatever your property dreams and needs, Shilling Excavation will be "shovel ready" for you!
A Reputation for Land Preparation Excellence in Central Texas


Serving Central Texas for over 25 years, Shilling Excavation has built a strong reputation through honesty and a sincere commitment to every task we embrace.
You - our client - are always number one in importance to us, and this relationship with our clients has given Shilling Excavation the foundation for renewed business.
Getting Started with Your Land Preparation Project
Your call to Shilling Excavation connects you with one of our experienced planners, who is ready to hear about your plans.
We're sure you will have questions, and we will give you every opportunity to share your thoughts.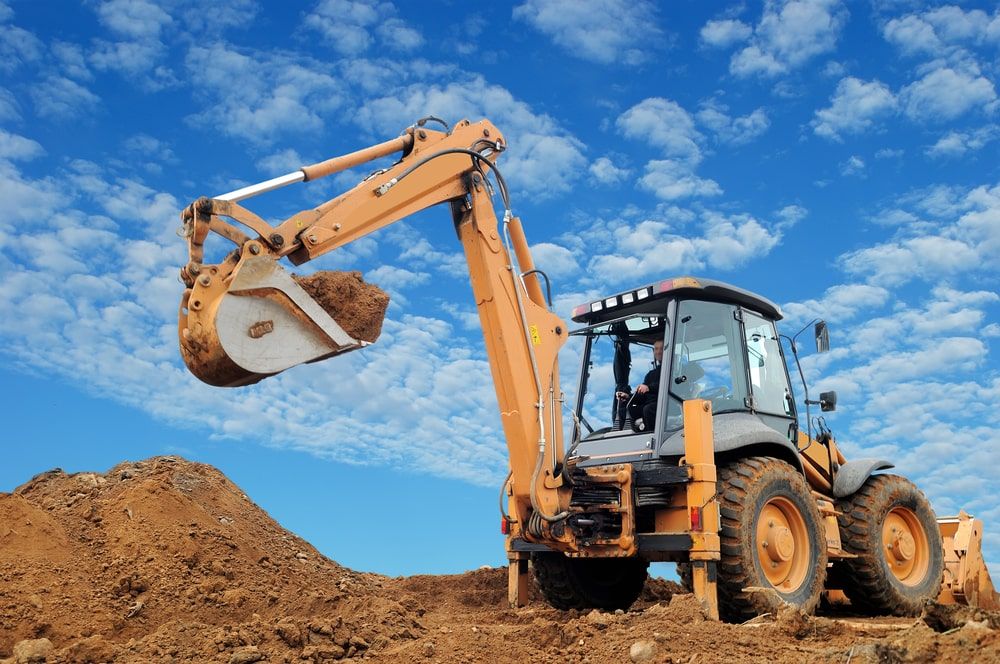 Our planning representative will offer professional expertise and concise answers to your questions as we explore your ideas.
We will confirm that the type of project you are considering fits the broad scope of tasks that Shilling Excavation performs. Then, get ready to "dig" deeper with us into the plans you have!
You're wondering, "Site preparation – how important is it? What does it entail?" Great questions! -- and important ones! -- since this is the critical first step once we have a clear picture of your future expectations. It is an absolute "must" for any project to "get off the ground," whether it involves a structure or is a land-only endeavor.
You see, once the location of your property is determined, the ground must be brought to an acceptable "working-condition level" with all conditions of the location fully identified and carefully reviewed before construction work can get underway.

5 Critical Areas to Consider When Preparing Land for A Building Project
When taking into consideration the most important aspects of construction site preparation involved in the development of a building or ground endeavor, several, if not all, of the following categories will apply to your situation.
1) Land Clearing
What is the condition of the selected area of your property for new development? Is it free of obstacles so that the ground is suitable for our Shilling team to get underway?
Involved in such work is wooded land clearing of brush and heavy vegetation, tree/stump removal (including mulching and grinding), "brush grubbing" -- pulling roots, eliminating large rocks, boulders, and any large protruding objects, and hauling debris piles (wood, rock, brush, garbage).
Satisfactory clearing is needed to make the site attractive and feasible for work to begin. An example of a proposed project needing preliminary land clearing techniques would be fence installation and fence row maintenance.
2) Structure Demolition
Do you have existing structures on your property needing to be demolished? If so, preliminary consideration must be given both by you and Shilling Excavation in order to identify any materials and/or structure accessories to be salvaged before the start of demolition.
This includes doors and windows, lumber, brick, stone masonry, and miscellaneous items such as lighting fixtures, signs, and door/gate hardware.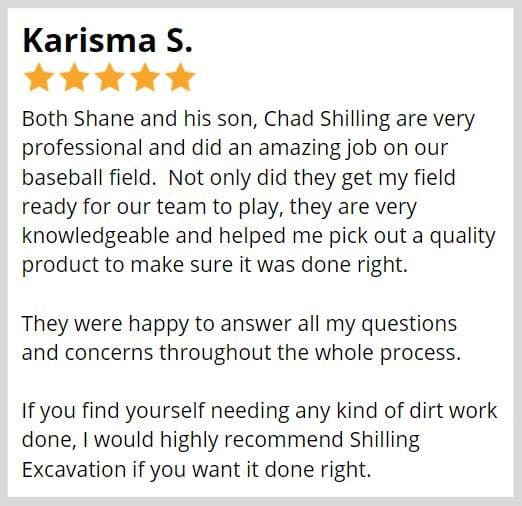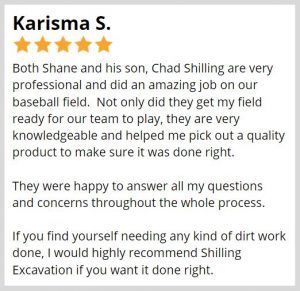 As demolition proceeds, jobs that will need to be performed will include hauling of all unnecessary materials from the demolition operation, and possible land leveling or filling.
Heavy equipment (bulldozers, excavators, dump trucks), as well as manual labor, will be involved in transporting debris for proper disposal.
Safety is paramount during the entire operation to prevent injury and protect adjoining property (including trees, shrubs, and other vegetation).
3) Alteration of Terrain
How can we keep the "lay of the land" you like while at the same time establish the proper topography needed? Our Shilling specialists/engineers understand your desire for attractive property "landscape."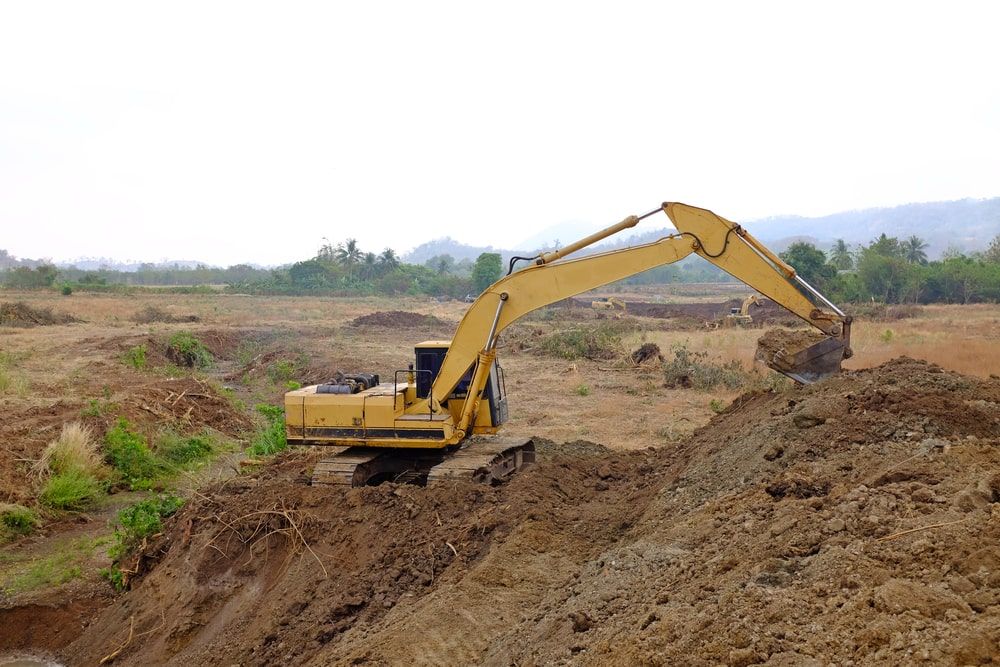 They will consider your preferences while giving careful, professional attention to slope control to meet requirements for construction site suitability.
What are the benefits of proper elevating, leveling, and filling of the soil? These steps assure adequate water drainage, prevent flooding, and minimize erosion.
We accomplish this through careful land grading, which could include needed culvert grading as well as drainage pipe installation.
Ultimately, you and the Shilling team will collaborate on achieving the very best grading level(s) of your property that match construction requirements with your satisfaction for appealing terrain appearance. We're confident you will be pleased!
4) Soil Quality
Do you agree that the quality of your soil is essential to assure the integrity of your proposed plan?
Shilling Excavation gives careful consideration to the soil on your site by making a visual inspection in order to determine the best type of soil for ventures such as preparation of a building site, dirt road construction, or gravel driveways.
Excavation and hauling of unsuitable soil from the site will proceed, followed by replacement (dumping) of "new" dirt, sand, and stone needed for proper structure preparation and pad installation. Also involved in the filling process will be grading and leveling using the bulldozer, boxblade, and compactor.
5) Utility Infrastructure Safeguarding
Essential to any building plans is awareness of utility installations already on-site -- both above ground and underground. Such utility infrastructure includes overhead power poles, transformers, junction boxes, and especially underground pipes, conduits and cable, gas, and water lines.
At Shilling we adhere to the highest safety standards on all our efforts. We take utility involvement, particularly underground locations, very seriously in maintaining the highest safety standards for our workers, the environment, and your property.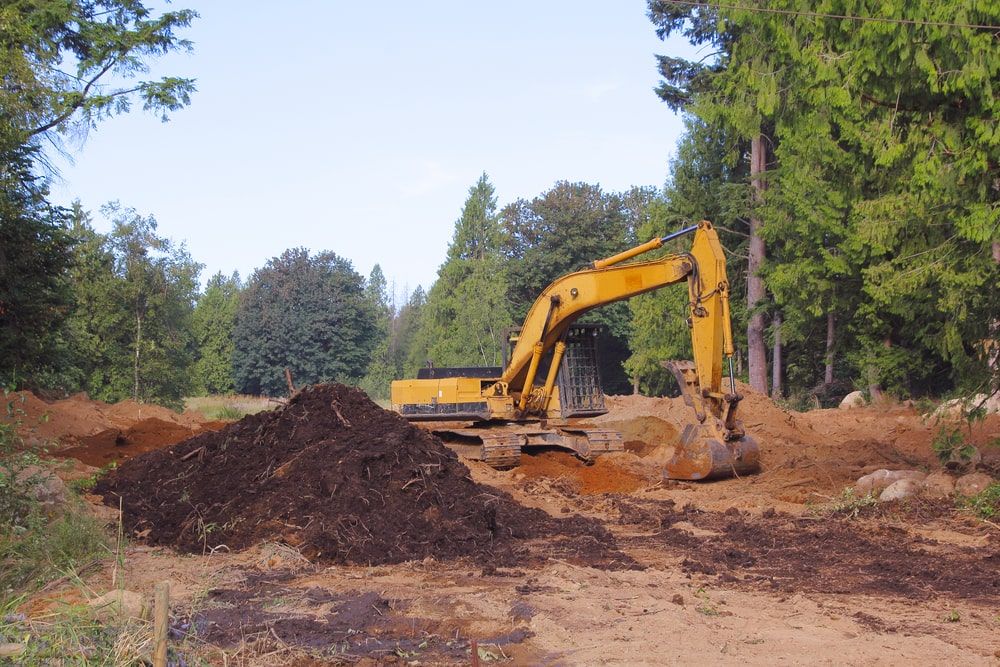 Upholding them is critically important when using land clearing techniques and excavation, earthmoving, and other land clearing equipment for this work.
Before getting started, it will be the client's responsibility to contact utility companies identified with their property to obtain a full profile of the location and utility types present on the property.
A final utility assessment then will be shared with all project workers to make them fully aware of needed precautions with utility locations during work on a proposed land site – from start to finish.
We're sure you will agree the thorough approach to safety is worth it!

Getting An Overview of Your Plans
Now you have a complete picture of the many considerations involved in pursuing your future expectations. Ready to take the next step of "sizing up" your project?
Early in our discussion, our representative will want to gain a complete picture of your objectives by arranging a site visit with you. We want to have the overall design from the outset, don't we?
Let us determine the basic support requirements and feasibility factors, answering your questions, and suggesting options, including practical, cost-effective changes and additions.
Assessing Your Project Costs
Our responsibility begins with an honest assessment of your ideas with cost-efficient, money-saving steps and a desire to satisfy you. You will be satisfied to know that Shilling will provide an estimate on the cost of your project.
Undoubtedly, you have additional questions, especially financial ones. "What do building site preparation costs entail for this part of my project?" you may ask.
As we look at the involved costs of bringing improvements to your property, we can identify
three (3) main categories that apply to both ground-only and structural work.
Here they are with examples for each area:
1) wages for workers
2) materials being moved on-site and off-site(sand, gravel, dirt, cement, lumber, pipe)
3) equipment operation (fuel, rental fees)
You will want to be aware that Shilling has the experience and expertise to allow your investment to yield cost-effective results.
We always are prepared to offer money-saving steps to make your proposed vision a reality.
Your Shilling representative continues to keep an eye out for possible combinations to save you money on the work, as well as increasing your property value at the same time. Shilling strives to achieve the best overall results for you.
Final Steps to Start Your Construction Site Preparation
We're now moving forward to complete our plans and reach "ground-breaking"!
Once we have finalized plans for the project, you will be provided with a cost estimate along with the projected starting date.
Shilling Excavation is committed to completion of your
project in a timely and efficient manner.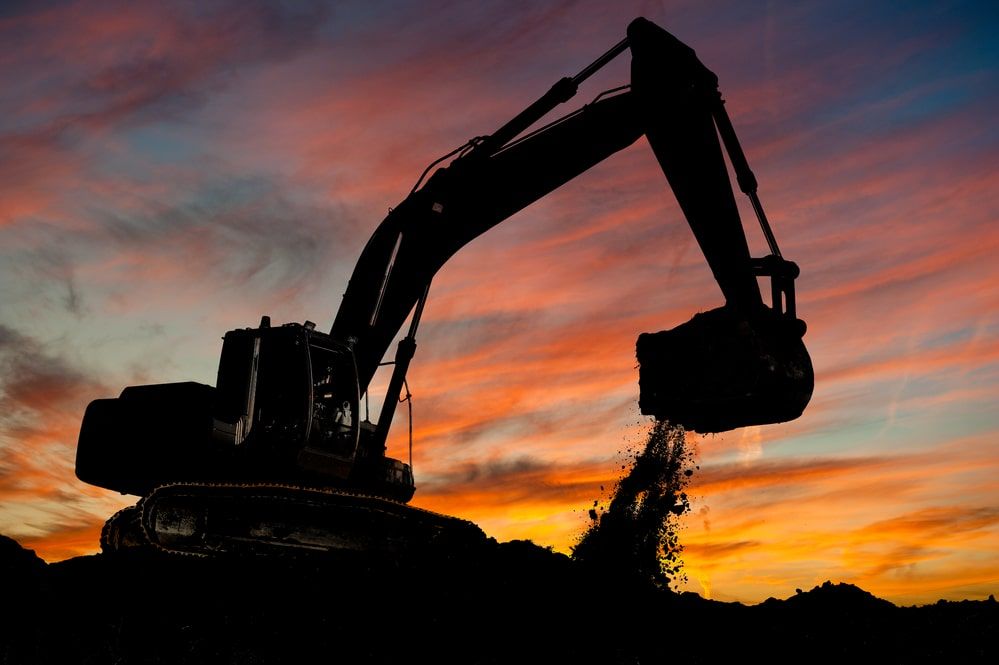 Thank you for taking the time to contact us for the exciting opportunity to build a solid working relationship.
Clear communication and plans are the foundation for any strategy -- a mutual conversation, not one-sided.
Listening always is at the core of any endeavor. Satisfying our client is a winning situation for both sides.
Our hope is that the information we have provided for you will motivate you to move ahead! All that's needed now is your call to Shilling Excavation in Central Texas to become fully informed and ready to launch into getting your building site prepared for your dream project. We look forward to talking with you.